Bloemfontein, the "city of roses" and Boer stronghold, is the capital of the Free State and its economic and cultural heart. As the seat of the Court of Appeal of the Supreme Court, the city serves as South Africa's judicial capital. Thanks to its central location in the semi-arid highveld, this predominantly modern city is a hub of road and rail traffic and a popular stopover on the journey between the Cape and adjacent provinces.
The city is also a convenient base to explore other tourist attractions in the Free State. To the northeast, Naval Hill looms over the city with its Observatory Theater and wildlife-rich nature reserve. Within the city, sightseers will find an excellent art gallery, as well as museums with fascinating exhibits on the region's cultural and natural history.
With a name meaning "Flower Fountain," it's no surprise Bloemfontein is also home to a beautiful botanical garden. In the surrounding areas, animal lovers can commune with big cats at a couple of popular wildlife parks. When the sun sets, head over to the township for a fun evening at the lively K-la-k carwash/restaurant for authentic food as you get your rental car cleaned.
To find the most interesting things to do and help plan your sightseeing, see our list of the top tourist attractions in Bloemfontein.
Note: Some businesses may be temporarily closed due to recent global health and safety issues.
1. Editor's PickCheetah Experience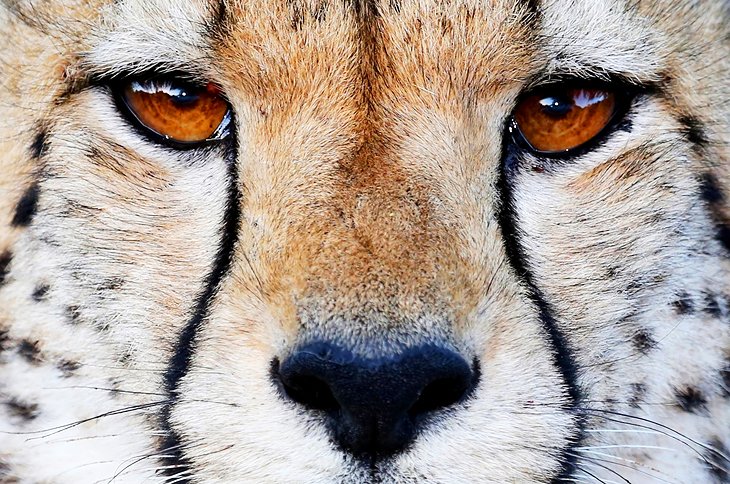 As the name suggests, big-cat lovers can commune with cheetahs and other cats at this popular non-profit wildlife sanctuary less than 12 kilometers from Bloemfontein. The "See, Sense, Touch" tour includes cuddling with impossibly cute cheetah cubs as well as caracals and servals, depending on the residents at the time.
The park is also home to leopards, lions, and wolves, which avid photographers can snap pictures of at close range. The sanctuary's mission is to direct their love for wildlife into saving "endangered species through captive breeding and awareness," and many of the staff are passionate volunteers.
Outdoor tours last between 60 to 80 minutes and include a presentation on safety and behavior guidelines before visitors venture off for fantastic wildlife photo opportunities and hands-on interactions. Bookings are essential.
Address: 1 Maluti Avenue, Bainsvlei, Bloemfontein
Official site: http://www.cheetahexperience.com/
Accommodation: Where to Stay in Bloemfontein
2. Bagamoya Wildlife Estate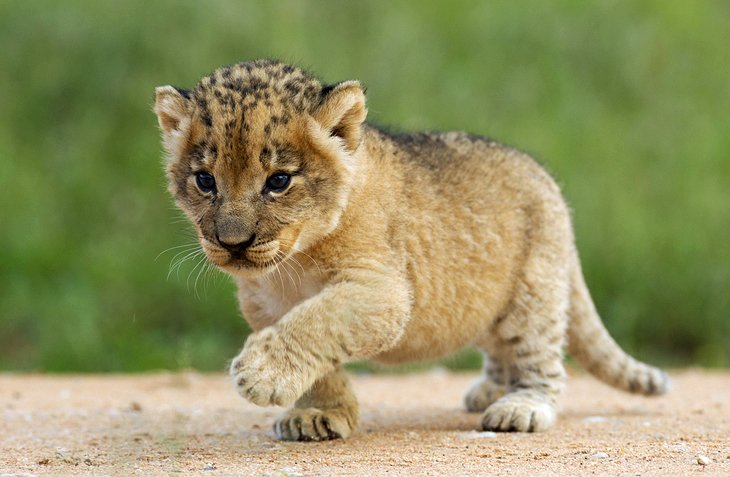 Animal lovers will be in heaven at Bagamoya Wildlife Estate. About 30 kilometers from Bloemfontein, this wildlife park allows visitors to interact with big cats under the careful supervision of expert staff who love to share their passion for these powerful creatures. Depending on the animals in residence at the time, visitors can bottle-feed lion and tiger cubs, pat cheetah, and even help feed the adult lions.
In addition to big cat interactions, the park has a small zoo, where some of the favorite residents are bat-eared foxes, wallabies, and jackals. Visitors can also join a guided game drive to see other animals such as giraffe, zebra, antelope, ostriches, warthogs, and more. Self-catering chalets are available for overnight stays. Before visiting, call to check the feeding schedules and opening hours.
Official site: http://www.bagamoyawildlifeestate.co.za/
3. Oliewenhuis Art Gallery
In a Cape Dutch mansion, the Oliewenhuis Art Gallery is named after the wild olive trees on the surrounding hills. The gallery is a satellite of the National Museum in Bloemfontein, and its permanent collection focuses exclusively on South African art, ranging from the old masters to contemporary paintings and sculpture. Artists include Thomas Baines, Pieter Wenning, and Willem Coetzer. Evocative temporary exhibitions are displayed in an underground reservoir.
After admiring all the art inside the gallery, wander into the beautiful gardens to see sculptures of South African historical figures and explore the 12-acre grounds on several walking trails. This is also a great place for a picnic, or you can grab a bite at the on-site Terrace Café with outdoor seating.
Don't miss the colorful carousel, which showcases both European and African mythological themes representing the country's mix of cultures.
Address: 36 Aliwal Street, Bloemfontein
Official site: http://www.nasmus.co.za/museum/satellite-museums/oliewenhuis-art-museum/introduction
4. Free State National Botanical Garden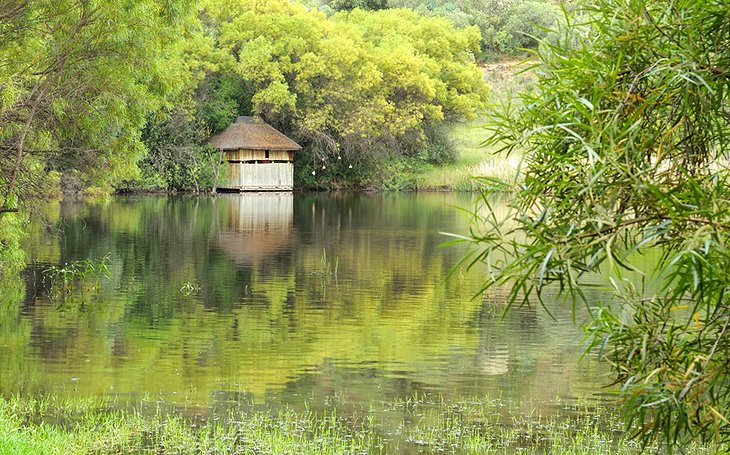 Snuggled in a gentle valley between dolerite rock outcrops, the Free State National Botanical Garden immerses visitors in natural landscapes of indigenous forest, grasslands, karee trees, and sculptural wild olive. The 70-hectare garden nurtures more than 400 different species of plants (and yes, they include roses), primarily from the Free State, Lesotho, and Northern Cape. Part of the grounds is a carefully tended park with a lawn and lake, but much of it is comprised of indigenous woodlands.
Other highlights of the garden include a replica of an ancient settler's cottage, a traditional Sotho hut with a herb garden, red-hot pokers native to this region, and a bird hide overlooking the lake where visitors might spot some of the 144 species recorded in the park. While wandering along the self-guided wilderness trails, keep an eye out for some of the park's small reptiles and mammals such as mongeese. After exploring the park, visitors can enjoy a picnic on the beautiful lawns or refuel at the restaurant.
Official site: http://www.sanbi.org/gardens/free-state
5. Naval Hill and the Franklin Nature Reserve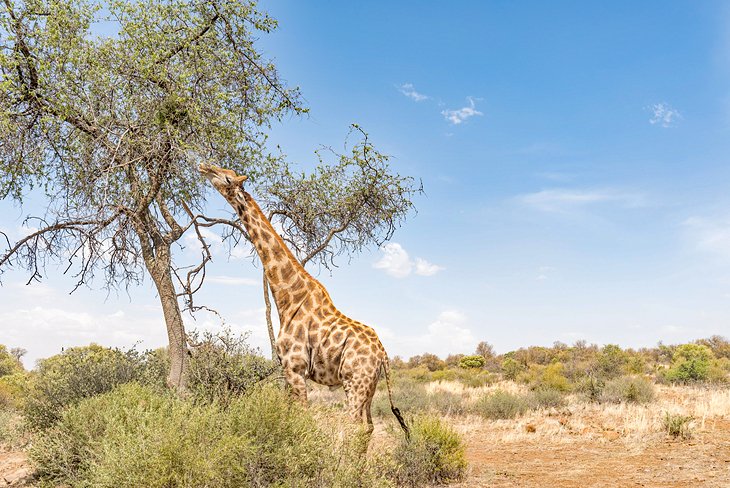 Panoramic views of Bloemfontein are the prime draw of Naval Hill, but the area is also home to abundant wildlife and a few other surprises. This gentle hill rising northeast of the city, is also home to the free Franklin Nature Reserve with zebras, springbok, eland, and giraffes, as well as many birds. Also on the hill is a large statue of Nelson Mandela (eight meters) by sculptor Kobus Hattingh. There are always people here paying respects to this world icon. The statue faces Waaihoek's Wesleyan Methodist Church, the birthplace of the African National Congress (ANC) in 1912.
While in the area, look for the large white sculpture of a horse on the east side of the hill, which was set up during the Boer War and served as a landmark for the British cavalry. At the foot of Naval Hill, the Orchid House in Hamilton Park has a collection of hundreds of exotic species of these stunning blooms.
6. Naval Hill Planetarium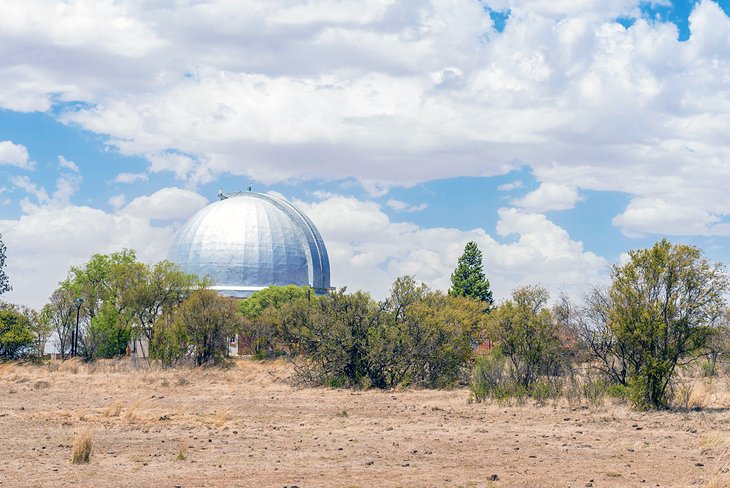 Naval Hill's former Lamont Hussey Observatory was reconstructed and turned into the Naval Hill Planetarium Theatre. Opened in 2013, the planetarium sits atop Naval Hill within the Franklin Nature reserve and is the first digital planetarium in Sub-Saharan Africa. In its dome theater, it runs documentaries about stars, planets, and our solar system, with the immersive experience amplified by an impressive surround-sound system and multiple data projectors.
Outside, enjoy sweeping views of the reserve and search for wildlife such as wildebeest, zebra, and bless bucks.
Address: Naval Hill, Bloemfontein, 9301
7. The National Museum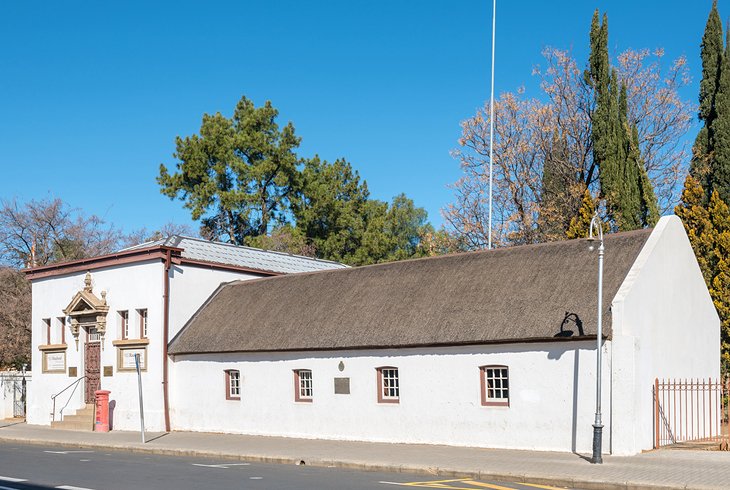 Established in 1877, the National Museum is a great place for tourists to learn about the region's cultural, natural, and political history, as well as its artistic traditions. The museum has a large collection of fossils and archaeological material, including a chronological display of Stone Age and Iron Age tools.
In the ethnological section, visitors can learn about the life of the Bushmen, Himba, Zulu, and other cultural groups, as well as see displays of African musical instruments.
Especially educational for children are the astronomy section, the mammal section, and the historical street scene with recreations of daily life in the late-19th and early-20th century. A satellite museum in Bloemfontein's oldest building, the First Raadsaal, displays exhibits on the history of the Free State.
Address: 36 Aliwal Street, Box 266, Bloemfontein, Free State
Official site: http://www.nasmus.co.za/
8. Anglo Boer War Museum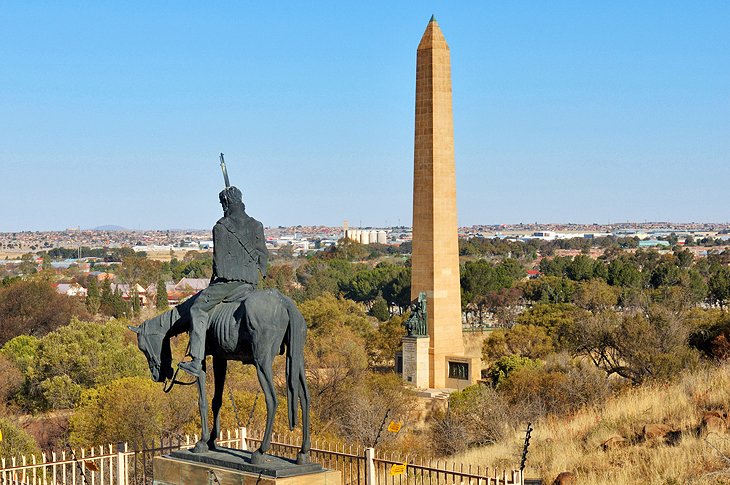 The Anglo Boer War museum traces the history from the Boer's perspective of this bitter conflict, which took place from 1899 to 1902. History fans can gain insight into the context of the war, as well as life in the brutal British prison camps through dioramas, a collection of art, audio-visual presentations, artifacts, and other exhibits.
The permanent collection focuses on some of the key figures of the time and includes a collection of firearms. Particularly poignant are exhibits highlighting the war's impact on black South Africans, as well as a bloodstained baby's bonnet showing the holes of stray bullets.
Outside the museum are several memorials, including the National Women's Monument, a 37-meter-high obelisk that commemorates the 26,000 women and children who died in British concentration camps during the Boer War. In the base of the monument is an urn containing the ashes of Emily Hobhouse, an Englishwoman who campaigned for better treatment of the internees.
Address: Monument Road, Bloemfontein
9. Loch Logan Waterfront and the Free State Stadium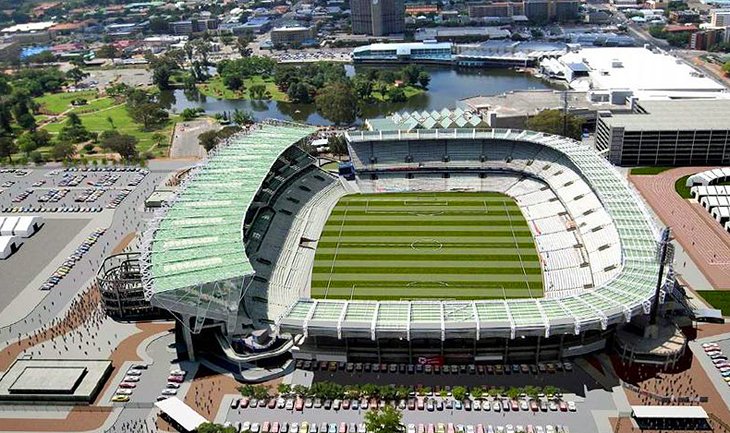 If shopping is on your list of things to do in Bloemfontein, this is the place to come. Overlooking an artificial lake, the Loch Logan Waterfront's claim to fame is that it's the biggest shopping mall in central South Africa. The mall is usually a hive of activity with plenty of shops, restaurants, and boutiques.
On rainy days, this is a great place to catch a movie at the cinema or indulge in some retail therapy. When the sun is shining, shoppers can relax at one of the waterfront restaurants or cafés. Parking is ample, and many sports fans nab a space here when catching a rugby match at the nearby Free State Stadium.
Address: 105 Henry Street, Willows, Bloemfontein
Official site: http://www.lochlogan.co.zahttps://c694ecb8437687607056fc4afdba156b.safeframe.googlesyndication.com/safeframe/1-0-38/html/container.html
10. Fourth Raadsaal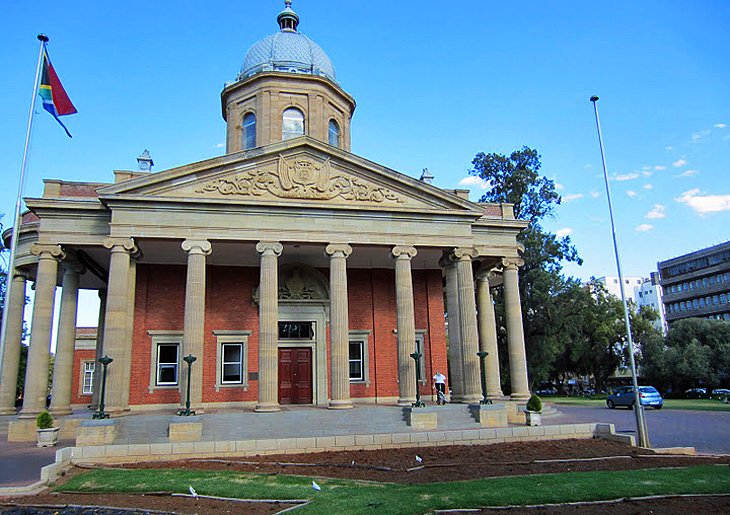 Opposite the Court of Appeal is the Fourth Raadsaal, one of the city's most beautiful buildings. The foundation stone was laid by President F. W. Reitz in 1890, and the building was completed in 1893. The Renaissance-style red-brick building flaunts a prominent dome and a portico of Ionic columns.
The last session of the Parliament of the old Boer republic of the Orange Free State was held here before the occupation of Bloemfontein by British forces in March 1900. It is now the seat of the Provincial Council of the Free State.
In front of the building is a monument (by Coert Steynberg) to Christiaan de Wet, a general during the Boer War. One block west from here, the Bloemfontein City Hall was designed by Sir Gordon Leithe in 1935 and is decorated with Italian marble and intarsia work in Burmese wood.
11. Langenhovenpark Boeremark (Farmers Market)
The popular Boeremark (farmers market and craft market) is a great place to soak up the sights, sounds, smells, and tastes of Bloemfontein. Tourists and locals alike come here to sample and buy local foods, such as delicious pannekoek (Dutch pancakes), as well as home-made jams, dried fruit, and fresh-from-the-farm produce.
Other stalls brim with second-hand books, clothes, plants, and furniture. This is also a great place to pick up some souvenirs at the arts and crafts stalls. The market is held every Saturday from 7am to 1pm in Langenhovenpark.
Address: Bankovs Boulevard, Langenhovenpark, Bloemfonteinhttps://c694ecb8437687607056fc4afdba156b.safeframe.googlesyndication.com/safeframe/1-0-38/html/container.html
12. De Oude Kraal Country Estate & Spa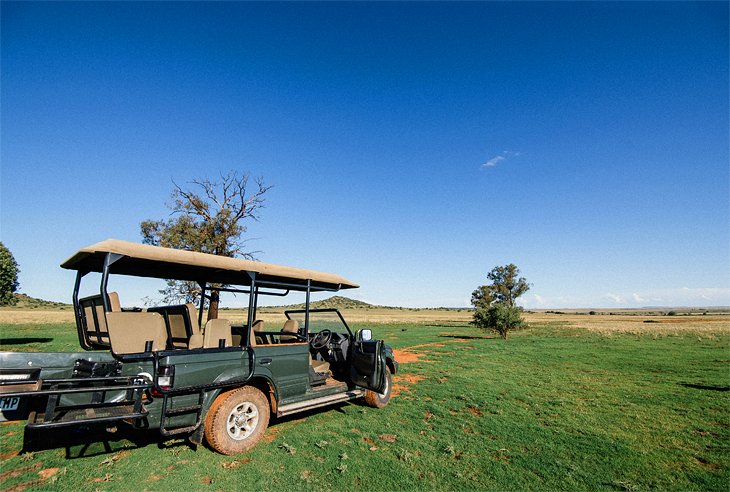 De Oude Kraal Country Estate & Spa has been passed down from five generations of women, and this Merino sheep farm located on the outskirts of Bloemfontein offers more than just bucolic views of farmlands. On a sunset farm safari, enjoy the scenic surroundings of the estate, and spot ostriches, wildebeest, bucks, and more as the setting sun paints the evening sky.
Afterwards, relax by the fireplace in the main house as you await your multi-course dinner served in the Colonial Restaurant, located in the original farmhouse built in 1885. Meals are prepared with great care from locally sourced ingredients by Marie-Louise Nel Lombard, who grew up cooking alongside her mother Marie Lombard, owner of the property.
De Oude Kraal also offers accommodations and a spa with several packages. Spa deals come with a light lunch, a choice of beverage, and use of all the spa facilities. Other activities available include tennis, clay target shooting, and exploring the farm on hikes or mountain bikes.
The luxurious guest rooms and suites blend in with the surroundings and have elaborate ensuite bathrooms, patios, and private entrances. Some of them come with a kitchenette, which are perfect for families.https://c694ecb8437687607056fc4afdba156b.safeframe.googlesyndication.com/safeframe/1-0-38/html/container.html
Where to Stay in Bloemfontein for Sightseeing
Luxury Hotels: The Royal Fischer Hotel, named after anti-apartheid activist Bram Fischer, is situated in the Woodland Hills Wildlife Estate and offers five gorgeously appointed suites in the renovated house overlooking the serene grounds. The hotel offers private massages in your own suite. Protea Hotel Bloemfontein Willow Lake, has modern and luxurious rooms; features include a swimming pool, conference room, restaurant, and lounge area.
Mid-Range Hotels: Anta Boga Hotel is situated close to popular landmarks like Fourth Raadsaal and Orchid House. Rooms come with flat-screen TVs, AC, refrigerators, and free Wi-Fi. The hotel has a pool and offers free breakfast. Southern Sun Bloemfontein is another centrally located property with Cape Dutch architecture and beautifully appointed rooms. It's close to the National Museum and the Oliewenhuis Art Museum. Dersley Manor Boutique Hotel, located in a suburb north of Bloemfontein has 15 uniquely decorated movie-themed rooms, and is less than a 15-minute drive from the airport.
Budget Hotels: SUN1 Bloemfontein offers simple and modern accommodation at affordable rates. The hotel is located close to major attractions in the city. For a relaxing stay in a house setting, opt for the 21 On Coetzee Guest House, featuring rooms with TVs and patios and an option for express check-ins and check-outs. Free parking is available.